Chad Tepper
Juno Rossa, Crooked Teeth
Vultures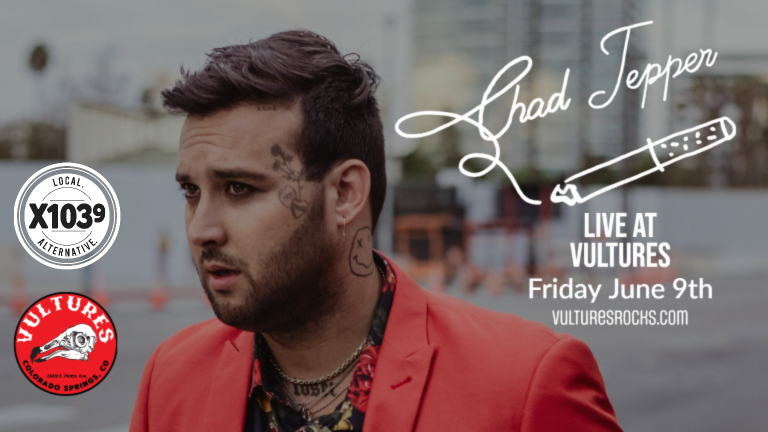 Artists
Chad Tepper
Chad Tepper, the musician with a vibrant persona earning him over 4 million followers on social media, has definitely spent some time in the limelight. Since moving from Orlando, Florida to Los Angeles in 2015 he's jumped at every opportunity to grow his fanbase, showcasing his larger-than-life personality through stuntman-like antics and gnarly skateboard tricks. But in more recent years he has shifted focus to his true passion - making music - and building a lasting legacy in the alternative world.
Since hitting the studio for the first time 4 years ago, the singer & guitarist is proving to be our generation's next authentic rockstar. The effortlessly grunge quality of his voice combined with an all or nothing mindset and flair for storytelling find him equipped with the tools he needs for a fruitful career. Already seeing streams in the millions - over 15 million this past year alone - his talents have been recognized by industry majors such as Apple 1, Spotify, Lyrical Lemonade, KROQ among others. 2021 saw huge milestones for Tepper, boasting dream collaborations with Simple Plan, Travie McCoy and Cheat Codes; all acts that he grew up listening to and influenced the artist he is now.
But there's more to Chad than meets the eye; the tattooed ex-pro skater wouldn't be the success story he is today without his fair share of hardship. The unfortunate fate of his early life saw Chad facing seven years of childhood homelessness, an experience that forever shaped the person and artist that he is today. "It was a moment in time and history of my life that I'll never forget and honestly shaped me so much," Tepper explained. "I wouldn't be who I am without it and beyond that it is the reason why I write music the way I do."
After getting his first cassette player from a homeless shelter when he was 6, Tepper was destined to make music. Growing up watching icons from the 70's such as Rick James, Freddie Mercury and Elton John, he also was impressed by early pop-punk, alt-rock and grunge that inform the high-powered music he makes now. Finding himself coming back to emotionally charged lyrics full of self-depracating coping mechanisms, Chad reflects, "For some reason, my lyrics are all about love, heartbreak and being a fucking loser my whole life."
An entertainer at heart, if you're lucky enough to see a live Chad Tepper show you'll be able to witness his outgoing energy and charisma as he commands the stage, loving and embracing every second of life. His flair for theatrics and passion for captivating audiences are a recipe for a truly dynamic performance. He gives 100% of himself and sometimes admittedly gets a little too in the moment, noting "All the crazy stuff I'm known for sometimes comes out too hahaha - it's like a punk show from the 70s."
He isn't afraid to bare it all (literally) to the world and with his recent signing to the legendary Epitaph Records, he's ready to dive head-first into a new era. When it comes down to it, Chad just wants to share his story. "My music is real. I'm a storyteller. It's all my past or things I believe for my future. I'm never scared to be vulnerable and I think that's relatable."
Juno Rossa
Juno Rossa is a trio from Colorado making soulful alternative pop designed to move you – and make you move. Formed as a collaboration between singer/songwriter Dan Craig and producers/rhythm-section husband-and-wife Corban and Malena Roberts, their sound has heart and swagger, memorable melodies gliding over snappy horns, and nostalgic synth accents with a driving bass groove crafted to keep your head bobbing. Their debut EP – Die Trying – comes out in 2022, and they are hitting the stage this summer with a set showcasing the record and accented with r&b, alternative, and classic pop covers - a bespoke dose of joy and movement to tired bodies and heavy hearts.