Plasma Canvas
Cheap Perfume, SPELLS, Bad Year
Vultures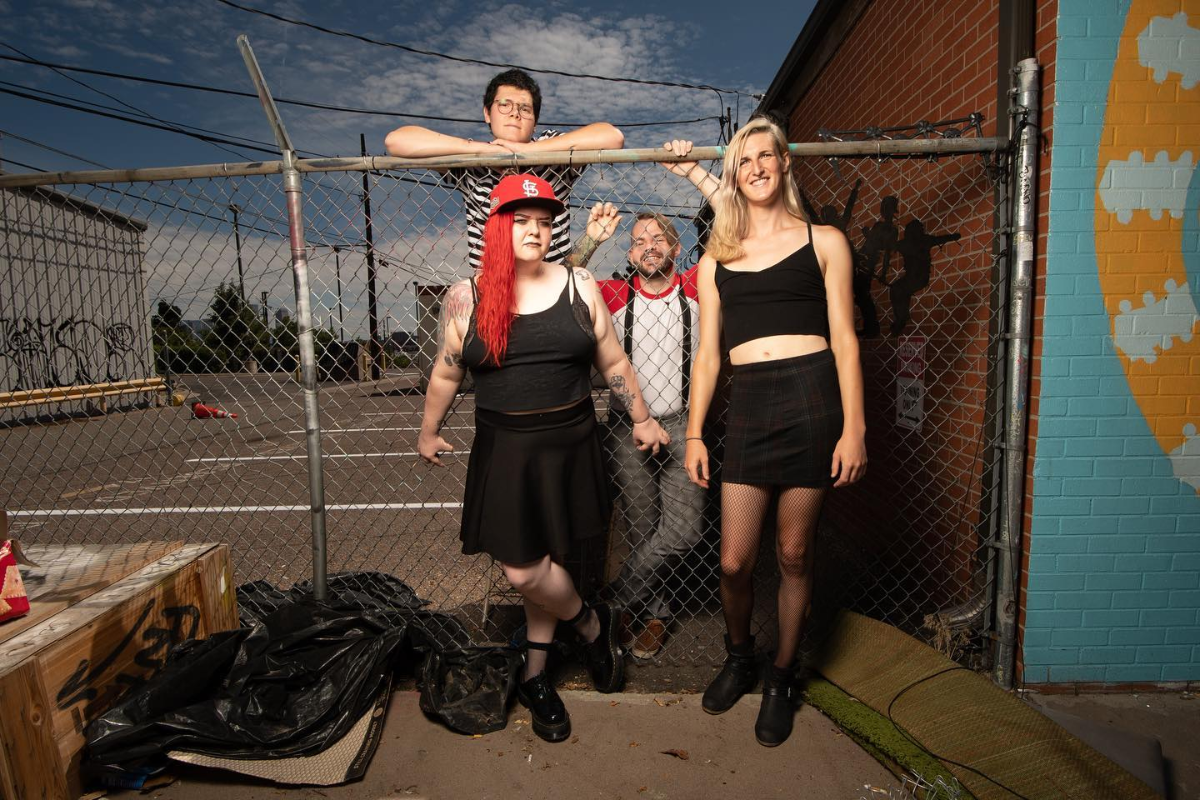 Artists
Cheap Perfume
Cheap Perfume is a feminist punk rock band that formed in 2015 in Colorado. They're fun. They're angry. They're dirty, foul-mouthed and unapologetic.
Through lyrics written by singers "Jane No" and Stephanie Byrne, Cheap Perfume explore topics of equality, sex, relationships, violence and politics. Stephanie's shout-singing and aggressive stage presence drive live performances that excite and empower audiences. While playing her loud, fuzzy electric guitar, Jane sings catchy melodies that complement Stephanie's sass talk. David "Hot Dave" Grimm's heavy drumming and Geoff Brent's powerful bass lines deliver straight-up punk rock that's influenced by riot grrrl, pop and metal.
The band released their first full-length album, "Nailed It," in November 2016. The satirical song "Dogs Against Dog Hollerin'" explores what it would be like if women talked to men the way men talked to women. "Trump Roast" skewers a recent political disaster. And "Slut Game Strong" celebrates a woman's freedom to be promiscuous despite the double standard. (The girls tried to write a sweet love song once but gave up quickly.)
Cheap Perfume play around Denver and Colorado Springs, where they love to see crowds having just as much fun as they're having onstage drinking champagne and flirting with one another.
SPELLS
SPELLS is a five-piece rock juggernaut hailing from Denver, CO. Founded in 2013, they are vacation rock to be exact. They produce short blasts of intense melody and driving rhythms that are custom-made to entertain the band members themselves and serve as an excuse to go play shows in cities that have beaches or buddies nearby. If your city's best offers include said beach and a good breakfast joint, count them in. If the best your city can do is a punk house that smells like cat shit and a Subway restaurant inside a gas station, they will pass.
​Over the past 9+ years, SPELLS has released two full-length records ('STAYING IN > NEW GOING OUT' in 2016 + 'STIMULANTS & SEDATIVES' in 2020) and one full-length collection record featuring early 7"s, cassettes, compilation tracks and digital charity tracks ('LOOSE CHANGE, VOL. 1' in 2018). They also have several other 7"s, cassettes, etc; some of which are slated for the forthcoming 'LOOSE CHANGE, VOL. 2'.
Along with SNAPPY LITTLE NUMBERS QUALITY AUDIO RECORDINGS, SPELLS has worked with other great labels such as ANXIOUS & ANGRY, RAD GIRLFRIEND RECORDS, BRASSNECK RECORDS (UK), KEEP IT A SECRET RECORDS (Germany), and SHIELD RECORDINGS (Netherlands).
​During the band's near-decade existence, SPELLS has performed with such rad bands as HOT SNAKES, THE BOUNCING SOULS, FACE TO FACE, THE SPITS, and THE BOLLWEEVILS, while also touring with acts such as OFF WITH THEIR HEADS, IRON CHIC, TOYS THAT KILL, SETH ANDERSON and DRAKULAS. SPELLS has played the SOUTH BY SOUTHWEST music festival (Austin, TX), POUZZA FEST (Montreal, QC, Canada), and FEST (Gainesville, FL- including Fest 17, Fest 19 and Fest 20, respectively).
​SPELLS continues to write, record and rock out new tunes on a regular basis, and can't wait for your favorite taco recommendations when they hit your municipality to blow the roof off of some crappy club or awesome hotel lobby. Oh, and don't forget... SPELLS Rules!